Regular price
$271.00 USD
Regular price
Sale price
$271.00 USD
Unit price
per
Sale
Next Dates to be Announced!
Reserve Your Spot Now! Space is Limited!
View full details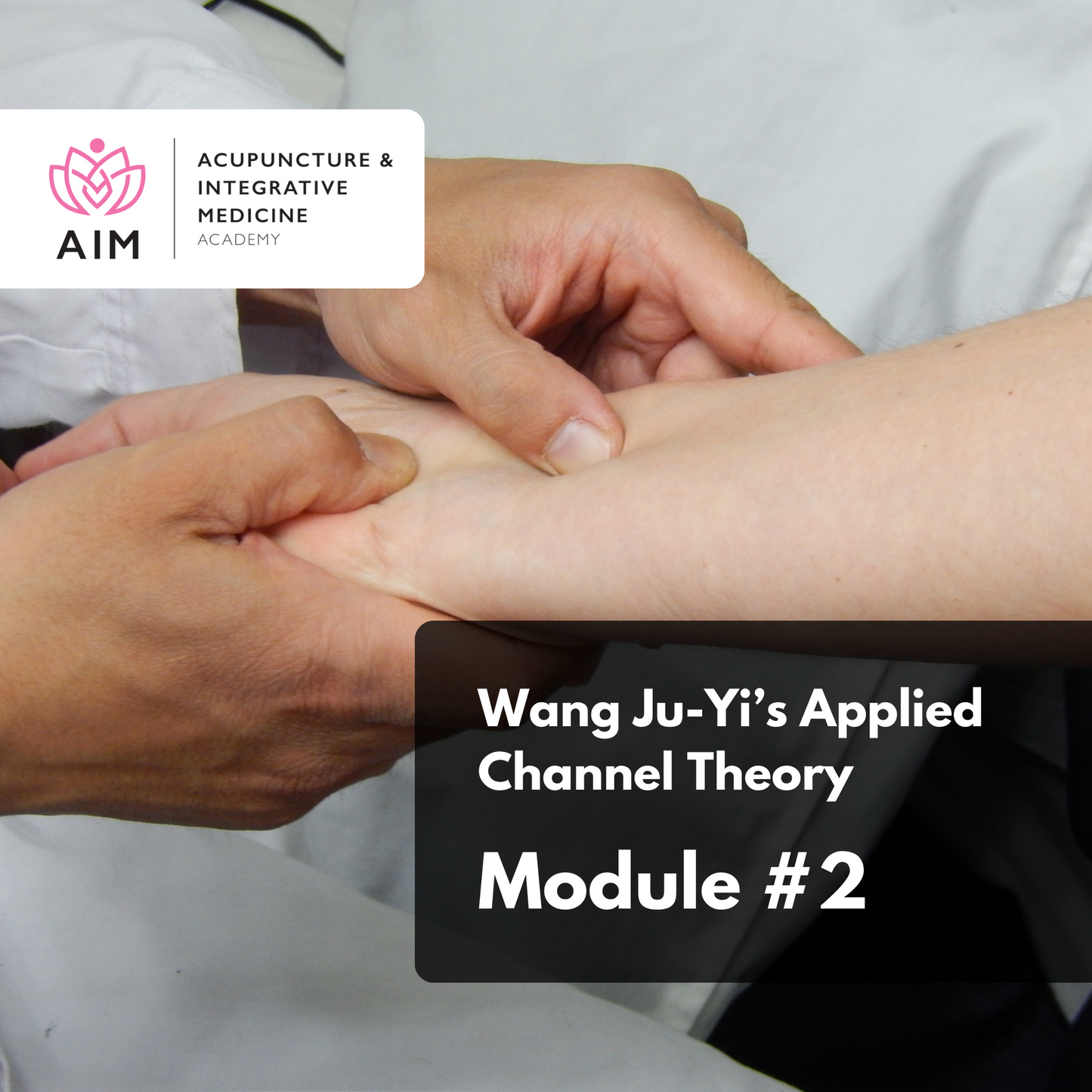 Applied Channel Theory (經絡醫學jīng luò yī xué) is an approach in Chinese medicine rooted in the dual research threads of classical texts and modern clinical application.
Description:
This course will combine online lectures with in-person palpation classes to introduce Dr. Wang Ju-yi's clinical application of the different acupuncture point categories. From Dr. Wang's clinical experience, he commonly focused on using the different point categories to treat the majority of his patients. A strong foundation in point theory helps clinicians when deciding on which points to select for treatment. In addition, through an understanding of this theory, different point combinations can be used to achieve better results. However, in order for the treatment to be effective, accurate point location is essential. This course will cover two main aspects of acupuncture points: point theory and the structure of points (which includes the palpation of these points).
The online course will focus on point category theory. It will cover Dr. Wang's understanding of the main point categories: yuan-source, luo-collateral, xi-cleft, five transport and eight extraordinary vessel points. Points that were most commonly used by Dr. Wang will be introduced, including his most commonly used point combinations. Clinical cases will be presented to help understand the use of these different point pairs.
The second part of the course will be a three day in-person class in Toronto. Emphasis of this class will be on learning how to palpate for the location of over 100 acupuncture points according to Dr. Wang`s locations, which are more precise and often different from the standard locations. Students will learn that each point has its own unique structure, and that in order to locate each point, they have to be carefully palpated. Most students will report after the course that their "de qi" sensation improves after using these locations, and therefore, their clinical results also improve.
This course complements students who have attended previous courses on Applied Channel Theory, especially on channel examination. When Dr. Wang's point locations are more accurately located, this will also further improve one's channel palpation skills, as the channel pathways will become clearer.
Details:
Schedule:
Part 1: Sundays, January 28, February 25, March 31, April 28, May 26, June 23, 2024 from 9:00AM - 12:00PM ET
Part 2: July 12 – 14, 2024 from 10:00AM – 6:00PM ET
Location:
Part 1: Online on Zoom.
Part 2: In-person at AIM Academy, 455 Spadina Ave, Suite 300, Toronto, ON, M5S 2G8
Requirements:
Completion of

 

Wang Ju-yi's Applied Channel Theory: Module #1

You are required to have a solid TCM theory background and have read the required text (Wang Ju-yi and Jason Roberston's book, "Applied Channel Theory in Chinese Medicine.")
Cost:
Part 1: $360 until December 31st 2023, $450 after
Part 2: $650 before May 30th 2024, $750 after
AIM Alumni Cost:
Part 1 - $360, Part 2 - $650 (Alumni, register by calling 416-323-1818 ext. 200 to receive your discounted rate. Payment can be made in person by VISA, MC, or Interact or over the phone using VISA and MC, or by e-transfer at any time.)
Payment Options:
Payment can be made online by Visa or MasterCard

In person using Visa, Mastercard, or interac

Via e-transfer to info@aim-academy.ca
Registration
Register online through our Shopify store or over the phone by calling 416 323 1818 ext. 200. Registrations are taken on a first come, first serve basis. Register early to avoid disappointment.
Cancellation Policy
Cancellations made on or before two weeks prior to the course start date will result in a $50 + HST cancellation fee. Cancellations made after that date will not receive a refund.
Instructor:
Jonathan Chang graduated from the Beijing University of Chinese Medicine in 2012 with a degree in Chinese Medicine. From 2008 to 2017 he studied with Wang Ju-yi in Beijing, and was Dr. Wang's full-time assistant at the Wang Ju-yi Applied Channel Theory Research Center and Clinic.

With two other apprentices, he helped compile a book of Dr. Wang's clinical cases that was published by the China Press of Traditional Chinese Medicine in April 2014, titled Wang Ju-yi's Applied Channel Theory Clinical Case Studies. Along with Mei Li, he is working on an English translation of the book, which will be published by Eastland Press.
He was one of the main contributors to Dr. Wang's An Introduction to Applied Channel Theory, which was published in 2016 by the China Press of TCM.
In August 2012, he was recognized by the Beijing Administration of Traditional Chinese Medicine, Beijing Acupuncture and Moxibustion Association and Wang Ju-yi as an apprentice and official instructor of Applied Channel Theory. In 2015, he was recognized as one of Wang Ju-yi's indoor apprentices.
Since 2017, he has been practicing at the Ling Lan TCM clinic, which is located in Beijing, China.